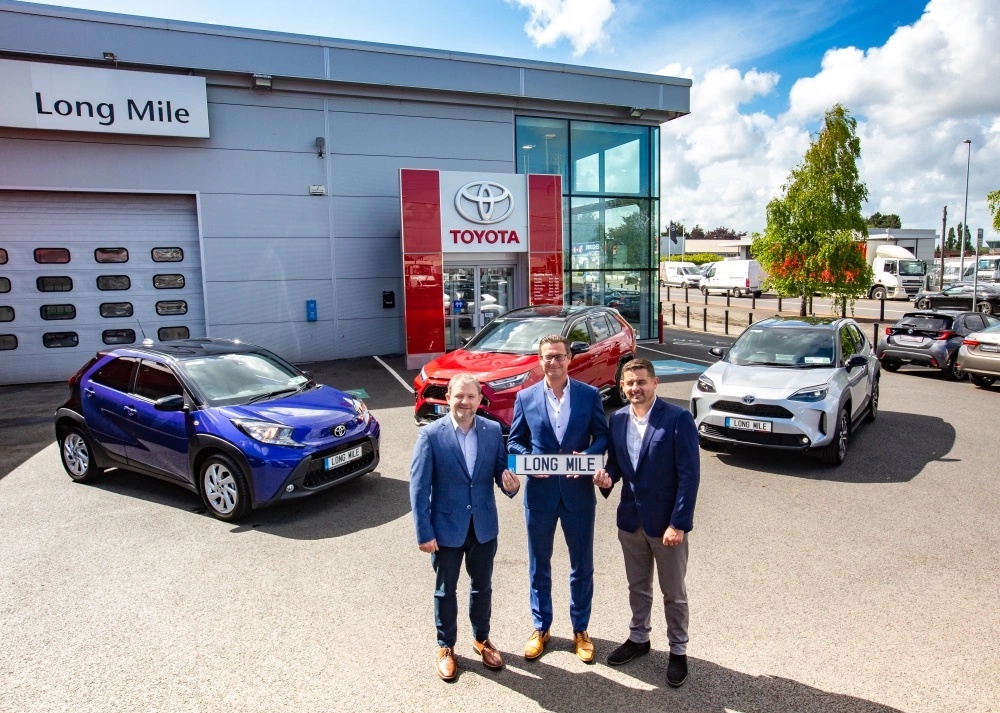 Toyota's hybrid electrics provide reliability, certainty and the best economy of any cars in Ireland
Aygo X, Yaris Hybrid Electric and Yaris Petrol available from just 3.9% APR
New Proace City and Proace Electric expands LCV range
Good supply available for the Toyota Land Cruiser
3 Years Servicing as standard on all retail sales
Offers available until 31st January 2023
Toyota, Ireland's best-selling car brand for 2021 and 2022 is ready for the busy 231 period and is delighted to announce the arrival of the all-new Corolla Cross Hybrid SUV 2.0l (starting from €38,910) and with 5.9% APR with Toyota Easy PCP Finance. Low APR offers of 3.9% are available on the award-winning Yaris Hybrid Electric (starting from €25,210), Yaris Petrol (starting from €22,050), and the Aygo X (starting from €19,080), along with other leading models at 5.9% APR respectively.
Despite the industry-wide shortage of passenger cars, Toyota has Ireland's widest hybrid electric range and it continues to grow its LCV range with the new Proace City and Proace Electric. Toyota will have ample stock availability for these models as well as for the ever-popular Toyota C-HR hybrid electric SUV and Toyota Land Cruiser (starting from €48,740) in particular. Toyota is urging customers interested in other high-demand hybrid electric models such as RAV4, Camry, Corolla, and Yaris Cross to contact their local dealer to avoid disappointment.
All-new Corolla Cross Hybrid
Toyota has completed the world-renowned Corolla family with the introduction of its first-ever SUV to the range, the Corolla Cross Hybrid. With a blend of Toyota's most advanced hybrid and safety technologies and the practicality of a spacious, high-riding SUV, the new Corolla Cross gives families everything they need in everyday life.
Now available in dealerships nationwide it retails from €38,910 or €297* monthly with Toyota Easy PCP Finance.
The year of hybrid electric motoring
With the continued migration of Irish drivers away from diesel into electrified motoring, 2022 was the 'year of the hybrid electric' and Toyota expects that the move to hybrid will continue in 2023. Hybrids continue to be the most popular electrified passenger vehicle in Ireland with a 20% market share as of October 20th (up from 17% last year), and in a nationally representative study of prospective car buyers conducted by iReach earlier this year, one in three people stated they intend to buy a hybrid electric for the next car purchase.
Toyota's hybrid electric cars account for more than 90% of its entire passenger car sales in Ireland, and the car brand's reliability doesn't stop and start with its stellar reputation for build quality and performance. In these uncertain times reliability has taken on a whole new meaning for Irish motorists. With growing concerns around rising inflation, the threat of recession and rising energy costs, Toyota expects that in 2023 more motorists will seek out the peace of mind that the reliability of its hybrid electrics provides. Adding to this peace of mind is Toyota's recent Relax initiative which provides a 12-month service activated warranty1 to any Toyota passenger car or LCV owner who services their vehicle within the Toyota network.